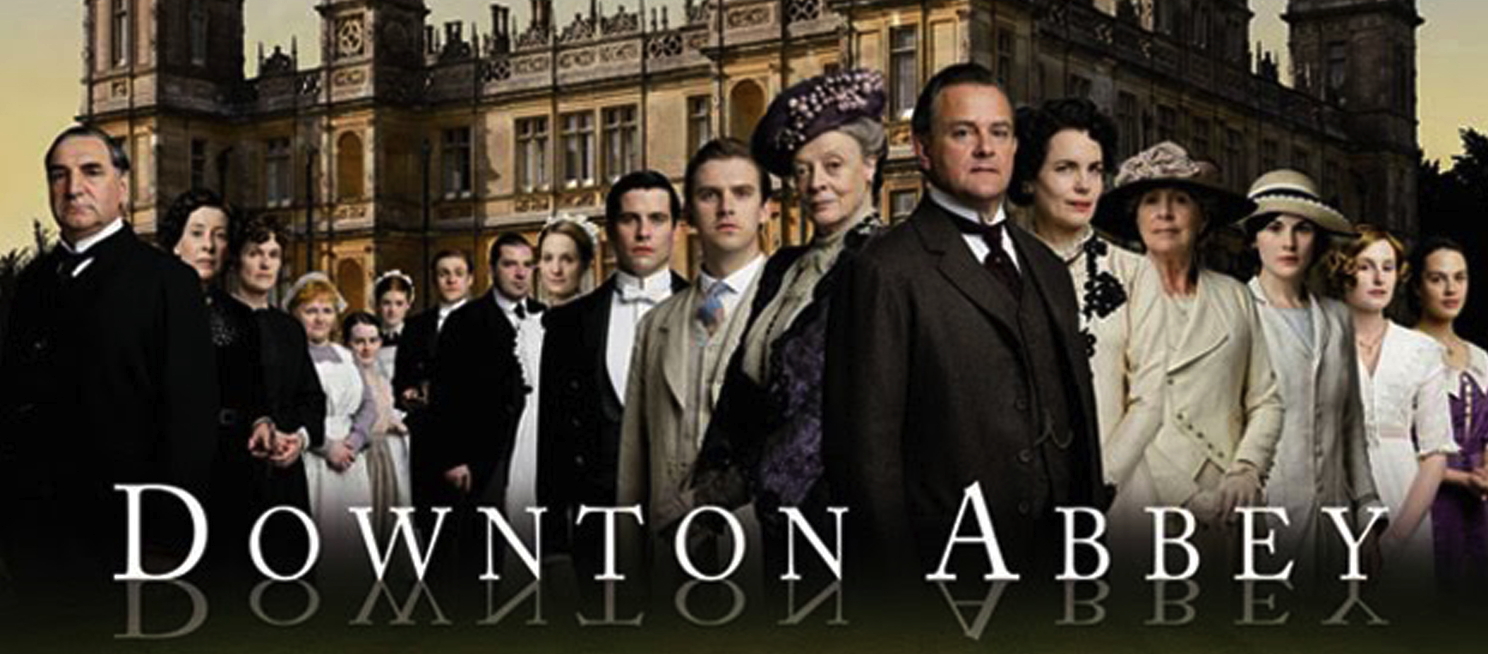 via pbs.org
Having taken the television audience by storm
on both the old and new continents, the elegance, opulence, and grandeur of
Downton Abbey
is influencing residential interior design across the globe.
Filmed on location at
Highclere Castle
, Newbury, England, the Edwardian style interiors speak of a bygone era with walls, furniture and furnishings that could tell stories that would shock, amuse and break your heart. Rich woods, glowing crystal, lavish use of silk brocade, damask, and velvet fabrics, tooled leather, layers of texture, color… and the furniture…who wouldn't love it!
Even those with a more modern bent find something to love here. Perhaps it's the stark contrast of mahogany and oak against softer cream and pastel walls, or the gentle oversized geometric that's formed by the damask fabrics that catches the modernist's eye. Classicist's have an overabundance of inspiration here, and the eclectic need only let his gaze dart from one period piece to another and wonder what their story is.
The series' popularity has fueled demand for all things "Downtonian" from furniture, bedding, and lighting, to kitchen accessories, and even formal wear. Kelly Moore Paint Company has issued colors inspired by the historic home, as has Farrow and Ball who also offers wallpaper suggestions. Knockout Licensing, the company overseeing and licensing the "Downton Abbey Brand" with manufacturers appropriately aligned will soon have many more companies creating lovely inspired items for the kitchen, dining, bedroom, and more. There most certainly will be lovely pieces within these new collections
Downton Abbey style is surprising easily incorporated into the modern home. That is the purpose of today's blog…an introduction to the basic elements that create the aura of grandeur and luxury and how to bring them into your home today.
At it's most basic level, what intrigues us about Downton Abbey is the feeling it evokes within our psyche, and emotions. The multiple layers of contrast and color beckon us to touch and feel everything; the strength and polish of the wood, the softness of a drapery, the playful dance of tassels against our fingers. Taken out of context, a historical structure of a particular and familiar time, it might be too much of a good thing, simply sensory overload, or less kindly, gaudy and overdone.
In order to adapt the essence of this era to the modern home one must examine the elements in relation to the individuals style and make choices that accentuate with subtlety, contrast dramatically, or fit naturally. The goal is not to replicate the style in it's entirety but reinterpret it within today's parameters of comfort, ease and luxury.
If you are inclined to the modern, keep in mind the contrast of modern minimalist furnishings in a classical setting can be incredible stunning. Conversely high French and English antiques can be a visual marvel in an industrial loft.
You are invited to peruse the elements listed below and pick and choose what works for you and your own particular Downton Abbey fantasy, and live the elegance…
Dowton Abbey Interior Style- The Elements
1. Flooring-
Wood floors and natural stone set the stage for room sized Oriental and Persian rugs. Deep jewel-tones, and rich vibrant highly saturated colors for drama in the public areas, softer in the bedrooms and more formal living spaces. For less traffic areas consider Aubusson rugs. Feel free to place smaller rugs over solid room size rugs, wall to wall carpet, or in very large rooms even over another rug! Persian and Oriental rugs can work in any style and add an immediate luxurious feel.
2. Walls-
Paint is the simplest way to bring the classically rich appeal to your own home. Kelly Moore has suggested colors as does Farrow and Ball based on rooms from the series. The colors range from deep mahogany brown to brick red in the library with the addition of blue by way of furnishings against cream walls with the book bindings taking on a pattern of their own. Green is introduced in small accent pieces on the mantle and on tables within the space. Stained wood trim and ceiling lend a more masculine chord in this area of the home. These colors will translate well to walls, ceiling, trim, built-ins, and doors in most homes and can be interchanged with varying degrees of emphasis based on personal preference. The dining room is essentially in the same or similar colors with cream walls and stained wood, with accent colors in the rug and the introduction of green on the dining chairs. This same palette is repeated in yet another form in the grande saloon, with its painted and glazed trims in cream, and highly decorative Spanish tooled leather walls, and the palette continues throughout the rest of the house.
In the more formal sitting rooms, painted or lightly glazed off-white trim is used against softer creams, or pastels. The bedrooms are done in soft pastels with off-white trim, or stained wood with deeper greens, blues, and reds. With so many rooms, Downton Abbey can have an assortment of spaces with arguably masculine or feminine appeal. Take care in smaller homes not to "break up" your spaces by having too many too different, which will accentuate the size, as continuity will make it feel larger. By following this formula of repetition of palette in different ways the old world elegance is readily applied to most any of today's spaces. For specific colors be sure to see the
Kelly Moore Downton Abbey Colors compiled here
and
Farrow and Ball site
, as well as the photos below.

Consider wallcoverings in large damask patterns, tone on tone stripes, and even painted embossed wallpapers. These embossed papers can be painted to resemble plaster, leather, wood, even metals. Embossed borders installed at chair rail height and bordered with a small molding, then painted and glazed to look like wood are a great way to add detail to walls. This is also workable on the wall at the ceiling.
3. Moldings, trim, doors, and built-ins-
The stacked multi piece moldings, baseboards, and coffered beamed ceilings are a large part of the grand appeal of most all the rooms at the Abbey. They add a grounded impression that can easily be adapted. Changing a base molding from 4" to 6" in height will give a huge impact, even it's only a 1 x 6 board with no routing. Beefing up all the moldings in your home is not inexpensive, but it is quite effective.

Stained wood is also used extensively. If you have paint grade trims, this look can be created by painting doors and moldings in a wood-tone color. For richer depth the painted surfaces can be dry brushed with a darker glaze giving the effect of graining. This treatment is also very effective on built-ins.

Adding crown molding formalizes any space, and if contrasted to the walls and ceilings it's a lovely finishing touch. Picture molding used in conjunction with special hardware allows you to hang your art from chain or ribbon, this in itself is reminiscent of elegant English salons. Wainscoting is a wonderful way to add interest to a wall and a favorite of period designers and can used on single walls for an accent or focal point. Applied small moldings on plain walls can be used to mimic panels, and when painted in contrasting colors they are beautiful.
4. Ceilings-
Many of the Abbeys ceilings have beams, or plaster embellishments. These can be added at any time to the surface. Any quality carpenter can add non structural decorative beams. There are companies that have been producing plaster ceiling elements for a hundred years, and many are still available, ranging from simple molding with corner curves to deep boxy angular ceilings with rosettes, and other carved motifs. For a simpler solution, use embossed wallpaper on ceilings installed within an inset formed by a small molding applied to the ceiling 12- 18" from the perimeter walls. Painted in a semi-gloss or gloss paint, the effect is that of formed plaster. Ceiling medallions at your chandeliers and other surface mount fixtures can be beautiful even with an otherwise plain ceiling. Another way to bring in the beautiful detailing is a painted stenciled ceiling. This can add creative and artistic patterns and depth and act as a "rug" for the ceiling.
5. Furniture and furnishings-
A wide assortment of period antiques, as if they had been collected over time, will always give a luxurious impression. Foregoing massive tables in living rooms in favor of smaller accent tables, and tufted ottomans as cocktail tables will work well. Center tables, and game tables are functional and decorative. Tufted furniture in general works, as do French and English fauteuils. Canopy beds come to mind as possibilities for bedrooms, along with carved exposed wood daybeds for secondary bedrooms and multipurpose rooms.

Large framed mirrors in stained woods and gilded finishes are a must, and should be placed freely. From simple to highly adorned, they will work in traditional to modern spaces.

Case pieces are usually highly decorated with carving, inlay or marquettry, or even painted. The addition of a few these exquisite pieces can transform a room immediately.
6. Fabrics-
Texture, weave, luxury of hand, and light reflection are of utmost importance in the selection of fabrics and other textiles. Tone on tone damask is a staple for the opulent living room. Upholstering a sofa, or a pair of matching chairs in damask can set the tone for a living area, with embroidered or contrasting fabric fringed pillows as accents. Solid and cut velvet are a great choice for less formal areas. Tapestry fabrics also are wonderful choices. Fringe and trims can be added to most any pillow, or even as a skirt on a chair or sofa. Small textured geometric patterns can be used to complete the furnishings.

Quilted silks are a favorite for the bedroom, as are brocades, velvets and tapestry fabrics. Large floral prints on windows are also quite lovely. Simple coverlets, or duvets with a restrained number of pillows, or large neckrolls at the head are preferable to the massive pillow stacks more common in today's bedroom.

Large tapestries hung on the walls are simple way to add elegant rich and regal décor to a space. Available in many themes and weaves they work with all styles.
7. Lighting-
Crystal chandeliers are the perfect choice for most any room if you want instant opulence. From large highly adorned pieces to the more delicate simple French flea market style with fewer crystals the selection is massive. Mirrored wall sconces, in fact wall sconces of any type, are also a perfect way to accent fireplaces, shelving, or add ambient lighting around the perimeter of a room. A pair of matching lamps on a console table or chest is great, but go more eclectic in pairing lamps on end tables or bedside tables by using a different style on each one. Remember a collection acquired over time.
8. Windows-
The layered swags, jabot and corniced windows of some of Downton Abbey's rooms do not translate well to the average home of today. They appear fussy and pretentious in most instances, unless your home is done in a very formal style with the accouterments to balance it. That said, the use of decorative hardware, especially wood rods with interesting finishes, finials and brackets can add the detailing we are after. Loose swags with panels and fringe can work, but be sure they are not too structured. Draw drapery to the ceiling under a simple upholstered or wood trimmed cornice, or on 2" wood rods with rings are the best option.

Luxurious fabrics, especially in silk, including velvet, damask, and stripes are great choices. Large florals in the bedrooms only. Fold over headings with fringe, or widely spaced rings with deep cuffed tops add a nice touch. Fringed inner hems and bottoms are an essential addition. Stationary or functional panels with tassels tiebacks, and tassel fringed bottom hems are highly dramatic. Length is everything. A small break at the hem is needed and puddling is a more luxurious look. Roller window shades in laminated accent fabrics with applied trims and fringe are a perfect partner to stationary panels, or for more light control with functional panels.

Roman shades are a more tailored choice and can be done in many beautiful fabrics to strengthen the overall décor. Steer clear of balloon or cloud shades as they are too fussy for the Downton style.
9. Accessories-
Silver in decorative and functional pieces is perfect for this era's influence. Silver serving pieces, tea sets and candelabra come to mind immediately. Books in shelving, and with bookends on surfaces are a must. Ceramic dogs, zebras, cheetahs, and other animals can be used on the floor as accents, typically about 24 to 30' high. Ceramic jardinières, garden stools and vases in Chinese patterns can add color and also function as pedestals, planters or vases. Ornate framed paintings and tabletop framed photos of ancestors and family can be another way to bring the style into your home. Fresh floral and greenery are necessary additions. Fine china tea sets can be used to serve guests, especially Meissen and other classic china, this of course is more a lifestyle change than décor, but quite fitting nonetheless.
These are of course only basic guidelines. As I said above you can easily choose one or more to implement in your own spaces. Please scroll down for photos and more ideas.
via sousstyle.com
No doubt you recognize this photo as the formal dining room of Downton Abbey. The cream walls are set off by the warm oak trim and wainscoting. You can see the art is hung from a picture rail by chain. The windows are done in solid cream fabric with 4- 6" bouillon fringe at the bottom of a long gathered valance beneath an ornate gilded cornice. They are fully functional draw drapery. The rug is in the rich reds, blues, creams and various similar tones of the main color palette of the home. Note the large candelabra style lamps on matching tables.
via hadleycourt.com
Another view of the dining room set for daily use by the family with a better view of the rug, along with Farrow and Ball paint colors.
via sousstyle.com
This is of course the grande saloon with it's incredible woodwork and Spanish tooled leather walls. Small tables are at each chair and there is a tufted ottoman in the middle. Sconces flanked the fireplace and more candelabra flank the arches.
via sousstyle.com
This is the music room with it's paneled walls with wallpaper inserts and painted and glazed woodwork. The dramatic contrast of the wallpaper might be a bit intense for your home, but a neutral damask pattern nearer the color value of the trim paint could be quite beautiful whether your trim is dark or light.
via hadleycourt.com
The library seems to be a true favorite with it's bookshelves, and velvet seating. The ceiling here is a very intricate carved pattern and may be stained wood or plaster. Ceilings of this style can be purchased in pieces and installed on site. A full ceiling might be a bit much for you, and I have installed these in the center of bumped up ceilings in many homes, leaving the lower area plain with great success as well as complete rooms. The color palette used throughout is most evident here in the furnishings and rugs, with green accents on the table at right, and on the mantle, most likely malachite pieces. An oversized geometric rug covers most of the room, while a smaller Persian rug defines the seating area. You can see the upholstered box cornice with tied back draw drapery in the distance. The Farrow and Ball colors inspired by this room are shown at the top right.
via hadleycourt.com
Another favorite room Lady Cora, The Duchess of Grantham's bedroom. A lovely pastel blue with matching painted trim, and detailed white ceiling and fireplace surround. A large solid carpet covers the floor with smaller area rug on top. A canopy bed with fabric accents, quilted silk coverlet, and minimal pillows offer restrained elegance. A large gilded mirror over the mantle and sconces either side add light and sparkle. Matching gold table lamps with embroidered shades light a desk area. Draw drapery with tassels along the inside hem and silk tiebacks adorn the window. Kelly Moore paint color in bottom right.
via sousstyle.com
One of my favorite rooms Lady Grantham's drawing room feels like a spring breeze. Painted and glazed off white woodwork, and pale green damask wallcovering above painted wainscoting feel fresh and will work easily in the modern home. Even without the appliqued adornments lightly glazed trims are beautiful. The matching sofa and chair in peach damask set a serene tone, and tapestry fabrics on the chairs, and embroidered pillows complete the look. The rich patterned rug is a perfect stage for the setting and the massive crystal chandelier sparkles above catching the light. The window treatments are perfect in this room, but a bit too formal for most spaces these days.
via pbs.org
Yet another drawing room with painted and glazed wainscoting and damask patterned wallcovering with a gorgeous Aubusson rug. Note the detailed ornate cabinet.
Detail of modern day painted and glazed or gilded carved trim. This effect can be reproduced on embossed wallpaper as well.
via mekhart.blogspot.com
Example of embossed wallpaper painted then faux finished. This could be verdi gris oxidized metal.
via thesteampunkhome,blogspot.com
Another embossed pattern painted to look like deep red leather.
This lovely room is from Edith Wharton's home The Mount, that could easily be in Downton Abbey. The large tapestry acts as a focal point and adds color and interest. Tapestries are one of the best ways to add rich color and texture to any room. The pale blue walls with the applied white moldings can easily be adapted for any space as well as adding formality. The scale of all the furnishings are perfect for the Downton style, especially the small accent tables, and multiple seating areas.
A tapestry behind a highly ornate chest, carved high back chair, leather inlaid center table and stenciling add regal touches to this entry foyer.
The oversized tapestry in this cozy dining room along with the puddle draped table, crystal chandelier, assorted antique dining chairs and settee create a charming yet definitively elegant style worthy of the Crawley family.
This average sized living room feels as if each item could have been acquired over time... and through world travels. The oriental rug grounds the space, and new, vintage, antique, and ethnic pieces provide a story of the past.
Painted stenciled ceilings can act as "rugs" for the ceiling and make statements on their own.
Stenciled detailing on cabinetry and other furniture pieces can add interest and create one of a kind showpieces.
Another example of stencil painting on a cabinet and on the wall and trim as a crown treatment. Free hanging mirrors with sconces over vanities and over chests and console pieces are an important element for Downton Style and can be used anywhere.
The minimalist loft dining room above blends rustic style with luxurious elements for a stark stunning study in contrast. The oak farm chairs are upholstered in a chocolate brown taffeta with the damask pattern woven in moss velvet. The seats are a tweed chenille. A bench matching the reclaimed wood table serves as seating on the near side. The chandelier was custom designed by the designer for the space and is silver leafed iron with clear baguette, octagonal, and almond shaped crystals, with larger almond rock crystal accents. The aged gold leaf carved mirror completes the look with the essence of Downton Abbey style.